I know that I am a crazy.... but I have started to Christmas shop already. At first it sounded crazy even to me but you would not believe the deals that I have gotten!
I have 2 kids, 14 nieces and nephews, a husband, and 14 other people to buy for. ( This does not include little gifts for my kids friends) So this year I rolled up my sleeves and decided that I would not only start early but also try to get the best deals possible. Since I have so many nephews and nieces to buy for I have decided that our budget for each child would be a measly $10. I took a deep breath and jumped in and you would not believe what I have found !!
First I discovered that MANY stores are marking down their toys right now. A sales clerk told me it was to get the new fall toys in. (My friends and I have also noticed that toys seem to suddenly get marked up in the fall and then go back down after Christmas. ) I also really concentrate on the ads in the Sunday paper. For example, I wanted to get my son a play dough kit that I have not found cheaper than $10. I found a add last week that had their play dough 25% off. It may not seem like much but it really adds up after a while.
I went to Target and found a HUGE Nerf iron man gun with a giant target that was over $20 and I got it for $9.00.
I also got a pair of power ranger walkie talkies that was also over $20 and got those for $9 as well.
For the girls, I got a strawberry shortcake pony doll that was over $10 for $6.
I also found a make your own body shimmer kit for a mere $3 in the clearance isle.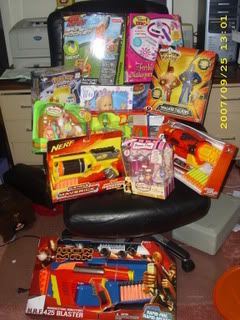 I won't bore you with any more details but I can tell you that I have not gone over my budget and I am totally done shopping for 12 people!