I have really been into making little girls hair bows. I think its because my daughter is the only girl in the extended family out of nine boys. She was born with quite alot of hair but sadly, has lost almost all of it. Now I believe bald is beautiful :) but I am sick and tired of people asking me if she is a boy or a girl. ( BTW- I think she has very girly features but I just try to smile and be understanding.. grrrrrr )
So I have been making stretchy bands with these big Sarah Jessica Parker hair bows that clip on. I am getting tired of them piling up on the shelf so I decided to make a hair bow holder.
It was so easy to make, cute and CHEAP!! You can make it under $5 and makes an awesome personalized gift.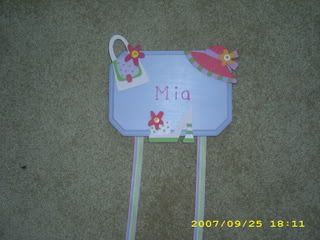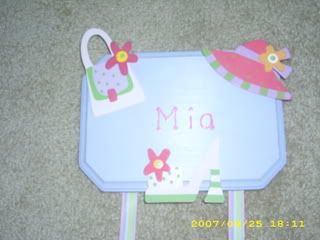 All I did was get a wood plaque from a craft store. I then used some craft paint that I had around the house for the base color. I also grabbed some cute wooden accents and some ribbon from the same craft store. ( I can also make some hair bows with the ribbon ) Some super glue later and I had my cute bow holder. Even though it was all so cheap to purchase, I saved even more with the coupon from the Sunday paper to Michaels or JoAnnes.
Happy Crafting!