I don't know about you but I can't stand it when my darling helpful husband does laundry. I know women who swear they would love if their husbands did laundry. I agree with them in theory.
In actuality what I get is a load of laundry that contains the following. A couple white fuzzy towels, a navy blue towel, a pair of nice khaki slacks, a red polo shirt, my linen skirt, a very shrinkable black baby doll top and a rag that I used to clean the oven. Can you hear me growling from where you are??
What I get from my hubby's good efforts is alot of shrunken clothes. I find the dryer does more damage than the washer does. I can't put all of the blame on my husband. I get in a hurry to get laundry done and forget that I have non dryables in the washer. I don't have to tell you ladies that money spent to re buy clothing is frustrating!!
What I have come up with is a way to hopefully save clothes and money. I went to a craft store and bought flat magnet squares that you can cut as needed. I then took my label maker and made a big fat label that said "NON DRYABLE ITEM". (You can just write it on some neon or colorful paper if you don't want to use a label maker or need to get someones attention. :) ) I then attach the label to the sticky side of the magnet sheet and wah lah!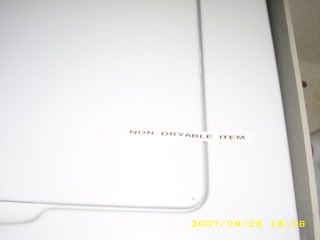 After I throw a load in the wash with a non dryable item I will put my magnet over the lid. It has saved me so much frustration! I have asked my husband to only wash his clothes so that has also saved me some hassle. If he goes to throw a load in the wash and sees the magnet he slowly backs away from the washer..... and this works for me!
For more helpful hints check out
http://rocksinmydryer.typepad.com/